As not only Constitutionalists, but Capitalists, we believe in voting with our dollars. Socialism and Communism cannot thrive in our region if we starve it out. Therefore, we respectfully ask you to support businesses in your local area that are run by Constitutional conservatives/Christians/Veterans first. The businesses on this page are verified Conservative/Patriot owned businesses in north central Arkansas and south central Missouri. If you have a business to add, please click here!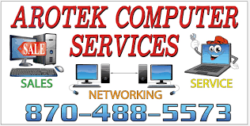 Arotek Computer Services
Joe Bryant, owner of Arotek Computer Services, is the head of the Ozark Patriots Quorum Court committee, and has been servicing, selling and network computers in our area for many years.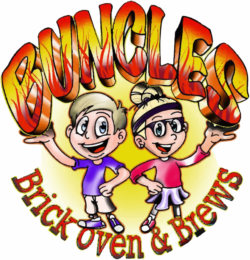 The Ozark Patriots often hold our public meetings and Buncles. Owner Al Beers is a well known local conservative, and Buncles offers amazing food served by a 1st-class staff. 1406 HWY 62 E, Mountain Home, AR 72653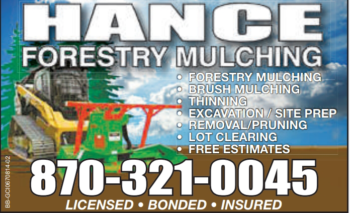 Hance Forestry & Mulching
Tree and brush mulching/lot clearing for residential or commercial sites. We selectivity clear land for beautification, timber, hunting, fire prevention, safety hazards, pasture land, rough home sites/pads, cut-in roads/driveways.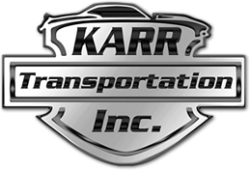 KARR Transportation has the experience, equipment and drivers to handle your transportation needs. Our fleet of new model trucks are dependable, and our experienced drivers are the best in the business. Call Al Beers at 870-402-9020 and let KARR Transportation exceed your expectations.
Randy and Beth Sandland (Ozark Patriots founding members) are licensed and insured Residential Builders based in Mountain Home. From kitchen and bath remodels to additions to building your new home from the ground up, Sandland Construction can address all of your major home needs. 870-421-8347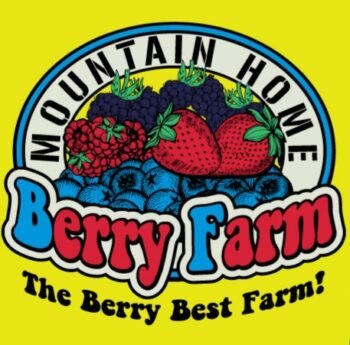 We are a family owned and operated farm. We grow a variety of berries and offer u-pick and pre-picked options. In late September to early November, we host private groups for Fall festivities during the weekdays and are open to the public for Fall festivities on the weekends. During the two weekends before Christmas, we offer lighted hayrides at the farm. We have a farm store in which we sell fresh eggs, grass-fed beef, local honey, jams and salsas, seasonal produce, many handcrafted items made by local people, and other unique items. Visit us at 693 CR 57, Mountain Home, AR 72653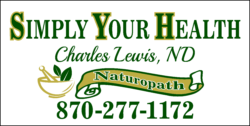 Simply Your Health, LLC offers drugless protocols using supplements, homeopathic and herbal remedies for the entire family. Confidential health targeted genetic testings is available for a variety of health concerns. Simply Your Health seeks to share the knowledge of healthy living has a wholistic and evidenced based system of care. Visit us at 40 Plaza Way, Suite 8188 in Mountain Home, or call us at 870-277-1172.
Square One Music – Tom Bryant
619 S. Baker Street, Mountain Home (on the square).
870-425-2668
Monday – Thursday, 11 AM – 6 PM
Full line music store, instrument repairs, and private lessons.
---
Lorel Koplin, Century 21 LeMac Realty East
Full service REALTOR, licensed in both Arkansas and Missouri. Call Lorel at 870-421-7266 to see how she can help you buy and sell in the Ozarks.
---
Crews and Company – Steven Crews
Crews and Company specializes in signs, lake carvings, laser engraving/cutting, furniture refinishing and painting.